A Safe and Caring Place for Students and Families
Free Health Care Services for Youth ages 5-21!
The Hornet Health Center is a Child & Adolescent Health Center providing care and counseling services to Emmet County youth ages 5-21 and their children.




Physical Health and Mental Health Services include:

› Telemedicine
› Weight Management
› Fitness Program
› Nutrition Counseling
› Treatment for illness and injuries.
› Basic laboratory services and tests.
› Referrals to community resources.
› Health assessments and risk reduction.
› Immunizations
› Asthma management.
› Help with quitting smoking and chewing tobacco.
› Individual, family and group counseling.
› Support Groups
› Help with insurance enrollment.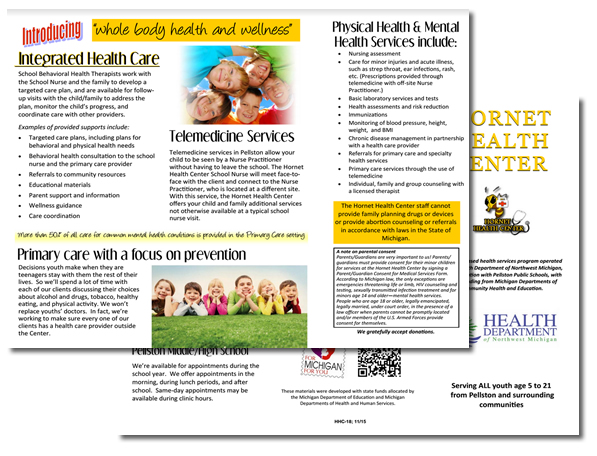 Why Choose the Hornet Health Center?
› Located in Middle/High School.
› Healthcare geared toward young people.
› Support
› Respect
› Convenient Hours
› Confidentiality
› Coordinated care with family physician.
› We care about you!